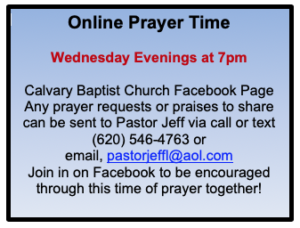 We will have a live broadcast of the sermon on Calvary Baptist Church Facebook Page
– A recording will be added to the Video Page as soon as we can upload it.
The link to the page live or afterwards to see the video – click on the

f

below
Follow Links below for more

information: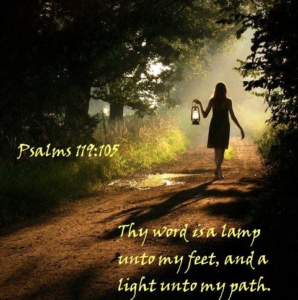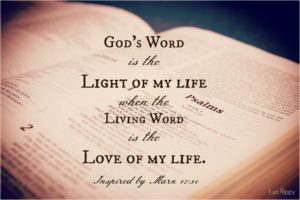 "Romans"

video with Tommy Nelson

Video In the Northwest Classroom, Enter through the Sanctuary
"CBC Discovery Class"
Begins Sunday, Jan. 12, 10:00 a.m.
Meet in the Fellowship Hall. It will continue for approximately 8 weeks.
This class for those interested in
learning more about Calvary Baptist Church.
We will be looking into
What do we believe?

What is our purpose and direction?

What are the church ordinances?

What is our history, and how are we organized?

What do we believe about marriage?

What is church membership?

What are spiritual gifts, and what are my spiritual gifts?
• How can I serve God through the church?
This class is beneficial for newer folks to CBC, and for those interested in becoming members of CBC; although anyone is welcome to attend regardless of how long you have been part of our church.
Sermon Series
CBC PURPOSE & MISSION STATEMENT
The mission of Calvary Baptist Church shall be to glorify God by making disciples, thereby advancing the kingdom of Jesus Christ. We shall seek to accomplish our mission through the public worship of God, prayer, the preaching of the gospel, consistent Christian living, personal and corporate evangelism and Christian education.
"A Church's Purpose and Mission:
Examples of Biblical Proportions"
Sunday, January 26, 2020
"A Commitment to Community"— Acts 2:41-47
A faithful devotion to a Christian community, characterized by truth, togetherness and testimony, defines and sustains us in our walk with Jesus.
Sunday, February 2, 2020
"Contend for the Faith"— Jude 3-4
True believers, (and true churches), defend and live out the true Gospel of Jesus Christ!
Sunday, February 9, 2020
"Biblical Unity"— Ephesians 4:11-16
Biblically described, the church is a united group of unique believers who love each other, and work well and grow together.
Sunday, February 16, 2020
"A Picture of Worship"— 2 Chronicles 6:40-7:10
Our worship is to be our awe and joy, as we experience and remember our faithful God!
Sunday, February 23, 2020
"Wholehearted Love"—Deuteronomy 6:10-19
We are to respond to God's love for us with wholehearted devotion to Him.
Sunday, March 1, 2020
"God's People Moving Forward"— Galatians 2:15-21
We only move forward as we remain centered on Jesus Christ alone for a right relationship with God and each other.
Sunday, March 8, 2020
"By All Means"— 1 Corinthians 9:19-27
Paul did whatever he could for the Gospel to reach as many people as possible.
COPYRIGHT NOTICE
The information on this site is the property of Calvary Baptist Church.
No broadcasting or duplication of any sermons in public form are allowed.
CONNECT WITH US
Join our social outreach
Please address your donations as follows:
Calvary Baptist Church
Attn.: Treasurer
804 NE 40th St
Stafford, KS 67578