We will have a live broadcast of the Service on
Calvary Baptist Church Facebook Page
– A recording will be added to the Video Page of this website as soon as we can.
The link to the page live or afterwards to see the video – click on the

f

below
The Attributes of God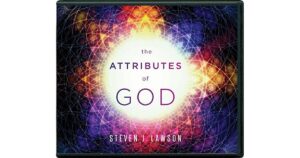 Facilitated by Elizabeth Fitch
Worthwhile relationships are based on knowledge. When we meet someone for the first time, we do not consider that we really know that person until we have the opportunity to learn more about that person, such as his or her history, personality, likes, dislikes, and desires. As we come to know more about a new acquaintance, we better understand how to carry on a relationship with that person. In the same way, a vibrant relationship with the triune God must be rooted in a firm understanding of who He reveals Himself to be in His Word. In this message, Dr. Steven J. Lawson presents an overview of God's defining attributes and invites us to pursue a more intimate and worshipful relationship with Him.
Sermon Series Review
"Paul's Letter to the Colossians—
Christ as Lord of the Cosmos and the Church."
January- June, 2022
Sunday, January 23—Colossians 1:1-2— "The Greeting"
We are "in Christ" with a new identity, calling and family.
Sunday, January 30—Colossians 1:3-8— "Thanksgiving"
We must be thankful for God's grace and power to embrace and live out the Gospel of Jesus Christ.
Sunday, February 6—Colossians 1:9-14— "Joy and Thanks"
We must give God joyous thanks for our new status in Christ!
Sunday, February 13—Colossians 1:9-14— "Paul's Prayer"
We must constantly pray for spiritual growth and power to please God!
Sunday, February 20—Colossians 1:15-20—
"Praise and Adoration"
Only Jesus Christ accomplishes God's gracious purposes for His creation!
Sunday, February 27—Colossians 1:21-23—
"The Proper Response"
We must remain resolute in God's plan and purpose revealed through Jesus Christ!
Sunday, March 6—Colossians 1:24-2:3—
"The Great Commission"
Those who know Christ are commissioned to serve Christ so that there is growth in Christ.
Sunday, March 20—Colossians 2:4-10— "Abiding Faith"
An abiding faith in Christ repels a deceived and deluded faith in Christ.
Sunday, March 27—Colossians 2:11-15— "The Way"
Jesus Christ suffered, died and was raised so that we could trust in Him as the only way to God.
Sunday, April 3—Colossians 2:16-23—
"Only and Always Jesus Christ"
The spiritually healthy remember, depend on and worship Jesus Christ together!
Sunday, April 10—Colossians 3:1-4— "A New Way of Life"
Jesus Christ and following Him initiates and sustains a new way of life!
Sunday, April 17—Colossians 3:5-11—
"Transforming Power"
Only a dedicated union with Christ powerfully transforms us and our lives!
Sunday, April 24—Colossians 3:12-14— "A New Morality"
Christ's true followers are defined by a "new morality."
Sunday, May 8—Colossians 3:15-17—
"Christ-Centered Worship"
A growing Christian life always includes Christ-centered worship.
Sunday, May 15—Colossians 3:18-4:1—
"Revolutionary Relationships"
Revolutionary relationships are enjoyed through union with and obedience to Jesus Christ!
Sunday, May 22—Colossians 4:2-6— "Gaining a Hearing"
The new life in Christ includes providing the opportunity for others to receive Christ.
Sunday, June 5—Colossians 4:7-18—
"A Glimpse into Ministry"
Faithful Christian service includes the joy of comradery, the expectation of hardships and the gift of opportunity.
COPYRIGHT NOTICE
The information on this site is the property of Calvary Baptist Church.
No broadcasting or duplication of any sermons in public form are allowed.
CONNECT WITH US
Join our social outreach
Please address your donations as follows:
Calvary Baptist Church
Attn.: Treasurer
804 NE 40th St
Stafford, KS 67578