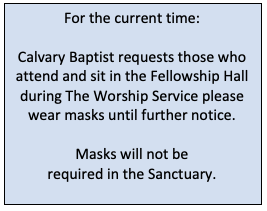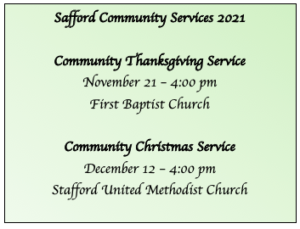 We will have a live broadcast of the Service on
Calvary Baptist Church Facebook Page
– A recording will be added to the Video Page of this website as soon as we can.
The link to the page live or afterwards to see the video – click on the

f

below
Adult Sunday School
Approximately 10 weeks
Title: "A Person of Interest"
Author: J Warner Wallace
Facilitator: Jeff Meyer
In the "Person of Interest" video study, Wallace employs a unique investigative strategy to confirm the historicity and deity of Jesus, showing why Jesus is unlike any other person who has ever lived.
Sermon Series Review
Sermon Series—Calvary Baptist Church, Stafford, KS
"An Appeal for the Gospel: Paul's Second Letter to Timothy"
August-September, 2021
Sunday, August 8, 2021—"Encouraged to Endure"
2 Timothy 1:1-8
As Christians, we must encourage each other to endure in the Gospel.
Sunday, August 15, 2021—"The Charge" 2 Timothy 1:8-18
By the Spirit, we must doggedly hold to and serve for the Gospel.
Sunday, August 22, 2021—"Be Strong" 2 Timothy 2:1-13
We are strong as we are steadfast in the grace and truth offered through Jesus Christ.
Sunday, August 29, 2021—"God's Servant" 2 Timothy 2:14-26
God's servants are demonstrated in promoting His truth, pursuing His righteousness and practicing His kindness.
Sunday, September 5, 2021—"Wonder-Working Power"
2 Timothy 3:1-15
Only the Gospel provides power over the perils of these "last days."
Sunday, September 12, 2021—"It's Time for the Truth"
2 Timothy 3:14-4:5
An enduring faithfulness to Christ requires a passionate commitment to God's Word.
Sunday, September 19, 2021—"The Good News"
2 Timothy 4:1-8
As Christians, we must urgently and faithfully proclaim the Good News!
Sunday, September 26, 2021—"Paul's Final Words"
2 Timothy 4:9-22
To be faithful to the Gospel, we must trust in God and help one another!
COPYRIGHT NOTICE
The information on this site is the property of Calvary Baptist Church.
No broadcasting or duplication of any sermons in public form are allowed.
CONNECT WITH US
Join our social outreach
Please address your donations as follows:
Calvary Baptist Church
Attn.: Treasurer
804 NE 40th St
Stafford, KS 67578