Follow Links below for more

information:
Printable Bulletin & Misc.
We will have a live broadcast of the Service on
Calvary Baptist Church Facebook Page
– A recording will be added to the Video Page of this website as soon as we can.
The link to the page live or afterwards to see the video – click on the

f

below
Quick Shots by Warner Wallace
In Quick Shots

, cold-case homicide detective J. Warner Wallace offers brief answers to common objections to the Christian worldview.
with Jeff Meyer in the Fellowship Hall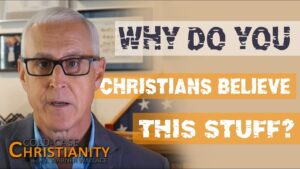 "Walking Together in Love and Unity"
Series – September through October, 2020
Sunday, September 13— "Acting in Love"
Romans 14:13-23
Unity must be our focus, as we build and show God's Kingdom through our love for one another.
Sunday, September 20—"Growing Up Together"
1 Corinthians 3:1-23
We grow up together in Jesus Christ as we are each responsible to God to help each other.
Sunday, September 27—"The Lordship of Christ"
Colossians 3:11-17
Living with Jesus as Lord allows for peace!
Sunday, October 4—"The Love Feast"
1 Corinthians 11:17-34
The Lord's Supper must unify us to remember and exemplify God's love through Jesus Christ.
Sunday, October 11—"A New Way of Life" Titus 3:1-11
God's power and love through Christ from the Spirit is essential for us to live well and love in this world.
Sunday, October 18—"Be Strong in the Lord"
Ephesians 6:10-20
A close relationship with God in Christ unlocks His power in our lives and church.
Sunday, October 25—"God's Children in a Fallen World"
Philippians 2:12-18
We are God's children in a fallen world as we purpose to love God and other people.
COPYRIGHT NOTICE
The information on this site is the property of Calvary Baptist Church.
No broadcasting or duplication of any sermons in public form are allowed.
CONNECT WITH US
Join our social outreach
Please address your donations as follows:
Calvary Baptist Church
Attn.: Treasurer
804 NE 40th St
Stafford, KS 67578