Videos – Church Services
Thank you for your patience – Due to technology it can take up to 2 days to upload the most recent services.
January 24, 2021 "A Courageous Faith, (Or Not)" Pastor Jeff Lowther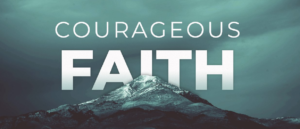 18 After a long time, in the third year, the word of the Lord came to Elijah: "Go and present yourself to Ahab, and I will send rain on the land." 2 So Elijah went to present himself to Ahab.
Now the famine was severe in Samaria, 3 and Ahab had summoned Obadiah, his palace administrator. (Obadiah was a devout believer in the Lord. 4 While Jezebelwas killing off the Lord's prophets, Obadiah had taken a hundred prophets and hidden them in two caves, fifty in each, and had supplied them with food and water.)5 Ahab had said to Obadiah, "Go through the land to all the springs and valleys. Maybe we can find some grass to keep the horses and mules alive so we will not have to kill any of our animals." 6 So they divided the land they were to cover, Ahab going in one direction and Obadiah in another.
7 As Obadiah was walking along, Elijah met him. Obadiah recognized him, bowed down to the ground, and said, "Is it really you, my lord Elijah?"
8 "Yes," he replied. "Go tell your master, 'Elijah is here.'"
9 "What have I done wrong," asked Obadiah, "that you are handing your servant over to Ahab to be put to death? 10 As surely as the Lord your God lives, there is not a nation or kingdom where my master has not sent someone to look for you. And whenever a nation or kingdom claimed you were not there, he made them swear they could not find you. 11 But now you tell me to go to my master and say, 'Elijah is here.' 12 I don't know where the Spirit of the Lord may carry you when I leave you. If I go and tell Ahab and he doesn't find you, he will kill me. Yet I your servant have worshiped the Lord since my youth. 13 Haven't you heard, my lord, what I did while Jezebel was killing the prophets of the Lord? I hid a hundred of the Lord's prophets in two caves, fifty in each, and supplied them with food and water. 14 And now you tell me to go to my master and say, 'Elijah is here.' He will kill me!"
15 Elijah said, "As the Lord Almighty lives, whom I serve, I will surely present myself to Ahab today."
16 So Obadiah went to meet Ahab and told him, and Ahab went to meet Elijah.17 When he saw Elijah, he said to him, "Is that you, you troubler of Israel?"
18 "I have not made trouble for Israel," Elijah replied. "But you and your father's family have. You have abandoned the Lord's commands and have followed the Baals.19 Now summon the people from all over Israel to meet me on Mount Carmel. And bring the four hundred and fifty prophets of Baal and the four hundred prophets of Asherah, who eat at Jezebel's table."
Jan 24, 2021

January 24, 2021 "A Courageous Faith, Or Not" Pastor Jeff Lowther

Jan 17, 2021

January 17, 2021 "Man of God" Pastor Jeff Lowther

Jan 10, 2021

January 10, 2021 "The Power and Provision of the Only God" Pastor Jeff Lowther

Jan 3, 2021

January 3, 2020 "An Unexpected Journey Following Jesus" Pastor Isaac Burnett

Dec 27, 2020

December 27, 2020 "Faithfulness in the Now" Pastor Jeff Lowther

Dec 24, 2020

Christmas Eve 2020

Dec 20, 2020

December 20, 2020 "The Promise and Power of Love" Pastor Jeff Lowther

Dec 13, 2020

Dec 13, 2020 "Motivation for Life and Ministry" Pastor Jeff Lowther 2020

Dec 6, 2020

December 6, 2020 "Celebrate Salvation" Pastor Jeff Lowther

Nov 29, 2020

Nov 29, 2020 "Grace to Glory" Pastor Jeff Lowther
Pays for Music License for All
Music performed at the church,
printed in the bulletins,