God of Covenant – Bible Study
by Jen Wilkin
(plenty of room to social distance)
Study Guides can be purchased online at Amazon, Lifeway, Christianbook.com or other book retailers.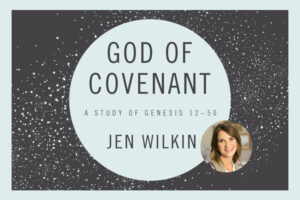 God of Covenant
is a 10-session video study on Genesis 12-50 which studies the stories of the fathers of our faith – Abraham, Isaac, Jacob, and Joseph. The study walks you through verse by verse, tracing the themes of covenant, resurrection, redemption, and hope.
Sessions include:
Genesis Introduction
Calling and Convenant
God Visits
The Long-Awaited Son
Sibling Rivalry
Exiled and Rreconciliation
Trouble at Shechem
Joseph in Egypt
The Deaths of Jacob and Joseph
Wednesdays
Starting – January 26
9:30 a.m.
A Study of Genesis 1 – 11
CBC Fellowship Hall
Please RSVP to
Suzanne Hildebrand