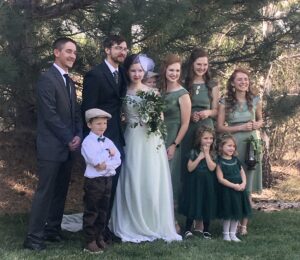 Dear CBC Family,
We would like to update you on Brian Smith.
For those that didn't know him, Chad befriended Brian (a friend from High School) and invited him to our house. He wanted to attend at CBC with Chad. Chad picked him up nearly every Sunday to attend Sunday School, church and family dinner for many months. Brian's life was full of challenges. Brian attended the Student Life Camp with the youth where he gave his life to Christ. That fall his mother moved to Pratt and he was staying with friends and wasn't attending school. He didn't want to go to school in Pratt. We asked if he wanted to stay with us and go to school in Stafford. He did stay with us for the fall semester becoming a part of our family and Matt & Chad became the brothers he never had. The people at Calvary cared and ministered to him, he came to considered this his church. He moved to Pratt and finished school there.
The summer of 2018 he came and wanted to be baptized at "his church" before moving to Texas to live with his dad. He was baptized and left. He has stopped by to visit us a couple of times since then.
In 2017 he met a lovely Christian lady Laurel on the twitter feed for the Daily Wire. She is the daughter of missionaries, having spent time in Mongolia and Thailand. In 2020 their wedding plans changed due to Covid – which included her father being unable to leave Thailand where he was a missionary and could not attend and officiate his daughter's wedding.
Through her connections with the Daily Wire people, Jeremy Boering and Michael Knowles attended the wedding with Jeremy officiating it. For us it was an amazing experience to meet Laurel's family who are amazing people of God. It was a beautiful and meaningful wedding. Brian has become a strong and dedicated man of God. The mother of the bride told us how much the impact of our church made on Brian's life. Brian & Laurel Smith were married September 23, 2020 at Windsor, Colorado and will be living in Texas. We wanted to share this to show the impact a loving church can make on a lost person's life. And we want to thank you. – Carl & Jeanette