Videos – Church Services
Please be patient – It can take up to 2 or 3 days to upload the new sermon. Thank you.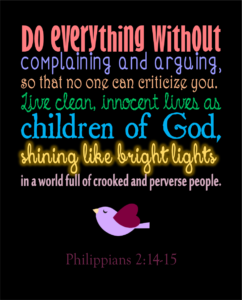 Philippians 2:12-15
(NIV)
12 Therefore, my dear friends, as you have always obeyed—not only in my presence, but now much more in my absence—continue to work out your salvation with fear and trembling,13 for it is God who works in you to will and to act in order to fulfill his good purpose.
14 Do everything without grumbling or arguing, 15 so that you may become blameless and pure, "children of God without fault in a warped and crooked generation." Then you will shine among them like stars in the sky
Mar 17, 2019

March 17, 2019 – "Change of Attitude – Part 9" – Pastor Mike Eddy

Mar 10, 2019

March 10, 2019 – "Change of Attitude – Part 8" – Pastor Mike Eddy

Feb 24, 2019

February 24, 2019 – "Change of Attitude – Part 7" – Pastor Mike Eddy

Feb 17, 2019

February 17, 2019 – "Change of Attitude – Part 6" – Pastor Mike Eddy

Feb 10, 2019

February 10, 2019 – "Change of Attitude – Part 5" – Pastor MIke Eddy

Feb 3, 2019

February 3, 2019 – "Change of Attitude – Part 4" – Pastor Mike Eddy

Jan 27, 2019

January 27, 2019 – "Change of Attitude – Part 3" – Pastor Mike Eddy

Jan 20, 2019

January 20, 2019 – "Change of Attitude – Part 2" – Pastor Mike Eddy

Jan 13, 2019

January 13, 2019 – "Change of Attitude – Part 1" – Pastor Mike Eddy

Jan 6, 2019

January 6, 2019 – "But God…" – Joe Zimmerman